Personalized Baby, Newborn & Adoption Plates
Baby Details on Personalized Pottery Plates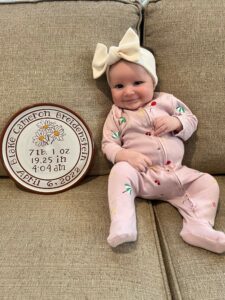 Personalized birth pottery plates make a perfect special gift for new parents and for the little ones in your life. Parents will treasure their personalized birth pottery plates (which are custom made with the baby's name, birthday, and birth weight and height) and kids will love them for years to come.
Here is a selection of plate designs for Newborns and Children.
We also accept requests for designs not seen here.
7 inch standard design – $70.00 (includes FREE shipping)
7 inch custom design – $95.00 (includes FREE shipping)

(Information you may want to have at the time of ordering – Baby's name, date and time of birth, weight and length)