Personalized Wedding Pottery
Here's a great idea for a wedding gift – send personalized wedding pottery plates from Bodmer's Personalized Custom Pottery! They make great anniversary gifts as well.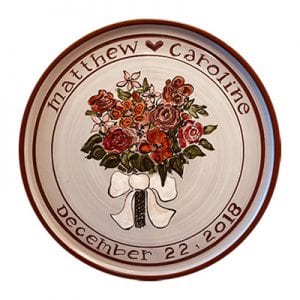 It's the Bride and Groom's big day. Give wedding & anniversary gifts, such as our personalized wedding pottery, for the couple that are unique, personal, and make the newlyweds (and beyond) feel special. We're here to help you find the perfect personalized wedding pottery for the gift the bride and groom will treasure for years to come.
Many brides and grooms register for wedding gifts. However, some guests may want to take a more personal approach to gift giving, which is why wedding pottery personalized by Bodmer's Custom Pottery Plates is a perfect choice!
Personalized wedding pottery and anniversary pottery can be personalized with names and wedding dates. They're especially perfect for any anniversary, from the first to the fiftieth, and beyond.
Trust Bodmer's Personalized Custom Pottery Plates of Buckeystown, Maryland. We have many traditional designs suitable for weddings and anniversaries. Give personalized wedding pottery to any couple and they will be proud to display and use them, perhaps even at their wedding and reception. Personalized wedding pottery is a great way to celebrate anniversaries, too – especially a 25th or 50th wedding anniversary! Remember the romance each year with these delightful personalized wedding potteries from Bodmer's Personalized Custom Pottery Plates of Buckeystown, Maryland!
Click here to VIEW a selection of plate designs for personalized wedding pottery plates.
Click here to send in an ORDER for your wedding plate
Thank you for your business!
Bodmer's Personalized Custom Pottery Plates is located in Buckeystown, Maryland.